Not enough aircraft will be equipped at the original deadline
In an interesting but not unexpected move last week (april 22, 2020) the European Commission and EASA published an amendment to Implementing Regulation EU No 1207/2011 that effectively delays the mandatory retrofit of aircraft with ADS-B to 2023. It turns out that not enough aircraft are expected to be equipped by the deadline.
The original plan was like this:
Every aircraft that is flying IFR faster than 250kts or that is heavier than 5700kg must have at least ADS-B out
Implementing Regulation EU No 1207/2011
Surveillance Performance and Interoperability Implementing Rule, SPI-IR

amended by EU No 1028/2014 and EU 2017/386
As you can see the original deadlines of 2015 and 2017 had already been moved to 2020.
So why was that and why now again?
Have a look at the numbers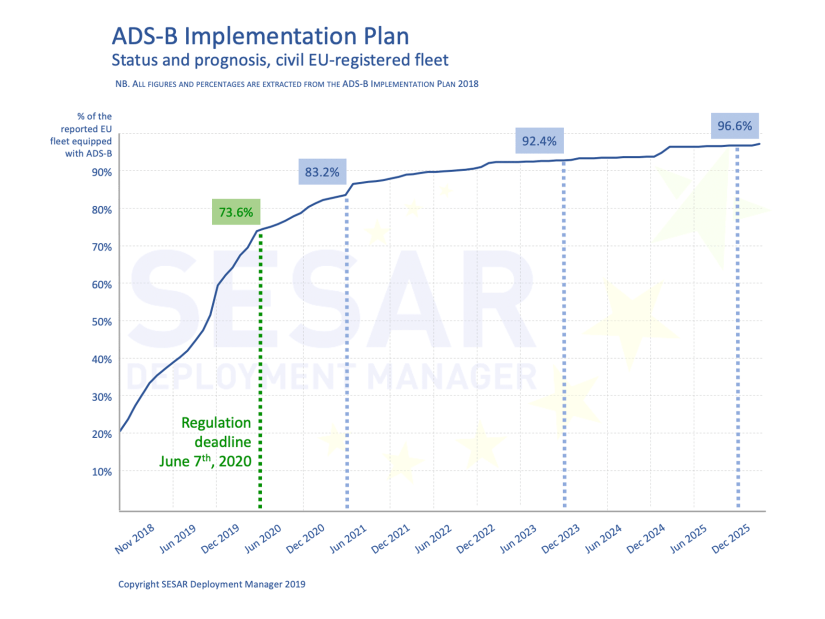 It is really quite simple: in June 2020 only about 74% will be equipped. If nothing happens the rest will be grounded. Who is the rest?
Aircraft that have problems with the deadline
Some of these aircraft only just got a certified ADS-B solution, others never will and some will be retired. For most it is a combination of cost and availability of equipment and hangar space.
Delays and exemptions are now possible
The EU came with the following solution to cater for this:
A permanent exemption for historic (or just old) aircraft.
An exemption for aircraft that are about to be decommissioned.
Under certain conditions more time for aircraft with an airworthiness certificate from between 1995 and DEC 2020. All the way up to 7 JUN 2023.
New aircraft with a certificate of airworthiness on or after 7 DEC 2020 must comply.
See also source at ads-b-europe.eu