Records are breaking
July 25, 2019
It is high summer in Europe with record-breaking temperatures (again) today.
Also we are seeing record-breaking ranges on LORA trackers.
This is one of my gps-nodes on the Things network that rides along in a delivery truck.
It passes the dike between Enkhuizen and Lelystad often but it never had any coverage on it, until today.
180 km to Middelburg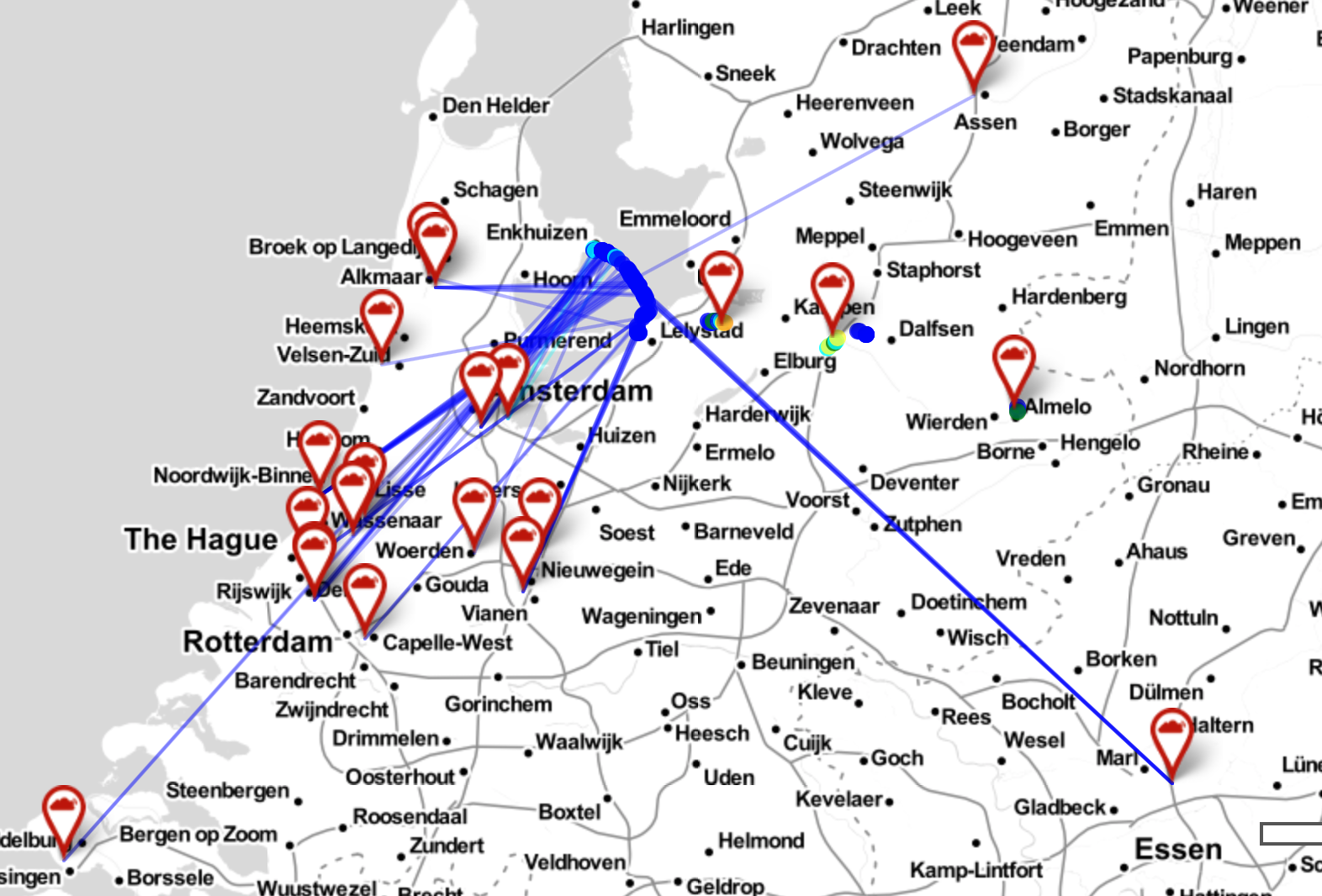 As a comparison, here is a typical day:
It passed the same road and was only picked up by the gateway in Dronten well after passing Lelystad.
It gets crazier
I was investigating the traffic to my gateway and found a blip from an unusual distance. After following it back to the source I found this:
How?
So what causes this? Is LORA dx-ing today and bouncing of a freak layer that only exists on very hot days? Is it maybe a special pressure system?
Crunching pressure systems?
The pressure is only 1014 hPa, just 1 hPa above standard 1013. Could it be because of that crunch zone we are in between the low pressure to the west of Ireland and the high to the east, the same one that is working as a gear wheel to transport all that hot air our way?
Tropospheric propagation?
Bouncing on the bottom of an inversion
Is there maybe a massive temperature inversion that causes tropospheric propagation or even tropospheric ducting?
The observable characteristics of such high-pressure systems are usually clear, cloudless days with little or no wind. At sunset the upper air cools, as does the surface temperature, but at different rates. This produces a boundary or temperature gradient, which allows an inversionlevel to form – a similar effect occurs at sunrise. The inversion is capable of allowing very high frequency (VHF) and UHF signal propagation well beyond the normal radio horizon distance.

https://en.wikipedia.org/wiki/Tropospheric_propagation
There is a temperature inversion below 1500 feet, but it is now very powerful.
Look what it says on this report by KNMI:
FBNL50 EHDB 250818     WEERBULLETIN VOOR DE LUCHTVAART 
.
GELDIG 250900/251500 UTC

HOOGTEWINDEN EN TEMPERATUREN:
       09 UTC:    15 UTC:
0500VT 120/05 +28 140/10 +36
1500VT 100/10 +30 140/10 +33 
3000VT 100/10 +27 170/10 +29
FL 050 180/05 +22 200/15 +23
FL 100 230/10 +08 200/10 +09
It seems that this could be enough though because at the moment it is the only way that I can explain how an 868 MHz UHF signal can do dx. The inversion is gone 15 UTC so if that is the cause of the dx then we can expect the conditions to disappear as the day progresses.
Looks like a reasonable explanation. If someone has a better understanding of this then I'm open to input. Temperatures are rising fast now so I'm going to find a place somewhat cooler.
Views: 15073